Most states follow equitable distribution laws, while a handful of others, such as Arizona, California, Idaho, Texas, and Nevada, observe community property laws when it comes to dividing property between divorcing spouses. New York is an equitable distribution state. This method seeks to divide assets and property fairly rather than equally.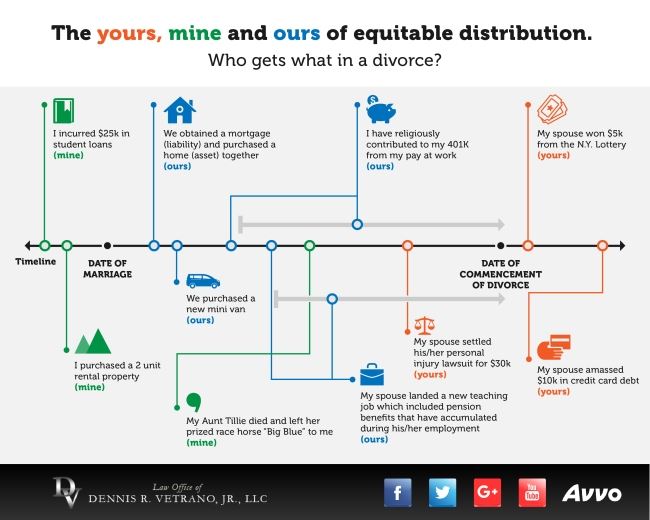 A judge will take several factors into account when deciding on how to split your assets according to this method. This includes:
Income and property of each spouse when they married and when they filed for divorce.
Length of the marriage.
Age and health of each spouse.
Pension, health insurance, and inheritance rights a spouse will lose due to the divorce.
Tax consequences to each spouse.
Future financial circumstances of each spouse.
If children are involved, the need of the custodial parent to live in the family home.
Other factors the court might see as proper to consider in the equitable division process.
Not all property is subject to division. Each spouse keeps his or her own separate property. Marital property refers only to property that was acquired by one or both spouses during their marriage. Separate property that is not subject to equitable division includes:
Compensation paid to either spouse for personal injuries.
Property defined as separate property via a valid prenuptial agreement or other contract.
Property acquired through the proceeds or increased value of separate property, unless the other spouse contributed to the appreciation in value of that separate property.
Property a spouse received as a gift or inheritance.
Property owned before the marriage.
Businesses are also subject to equitable distribution, though it will usually be awarded to the spouse who operates the business and the difference will be made up to the other spouse through other marital property.
At the Law Office of Dennis R. Vetrano, Jr., LLC, we exclusively practice family and matrimonial law. We can provide you with legal counsel on the ramifications and implications of any choices that are available to your family. Our firm has represented families in the Beacon and Dutchess County areas.
Call us today at (845) 605-4330 for a consultation.