Westchester County Divorce Attorney
FILING FOR DIVORCE IN WESTCHESTER COUNTY, NY?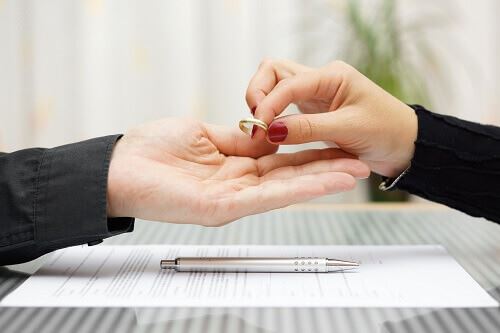 The Law Office of Dennis R. Vetrano, Jr., LLC proudly represents individuals and families from all walks of life. We have sharpened and honed our skills to cater to any type of family law need. Whether you are involved in a contested divorce, a high-net-worth divorce, or a no-fault uncontested divorce, we have the experience to provide you with seamless and stress-free representation.
No one really wants to get into a heated legal battle with their spouse and family members, and yet family disputes regularly turn into something similar to a contest in Westchester County. A divorce seems to have more chance of conflict than anything else, frequently leaving people with doubt and legal concerns.
If you are in the middle of a divorce and are not sure where to turn to next for support, know that the Westchester County divorce lawyers at the Law Office of Dennis R. Vetrano, Jr., LLC are here to help.
IS IT WORTH GETTING A DIVORCE LAWYER?
It is worth getting a divorce lawyer in Westchester County for specific situations that are understandable during divorce proceedings. You should hire an attorney the following is happening:
You are the victim of abuse
You realized your spouse retained a lawyer
Your divorce involves children or intricate financial issues
Whatever is troubling you, we have a solution. We have handled cases regarding:
---
Our services could be your solution. Contact us today for more useful information.
---
Compassionate, Knowledgeable, Experienced
With thousands of lawyers living and practicing in Westchester, it can be understandably difficult for someone to pick out the best from the rest.
How can you know which law firms really want to help you through this difficult time, and who just sees you as another case number?
You will need to find legal advocates who are backed up by their past clients, well-respected in their communities, and stand apart with their accolades and accomplishments.
Consider what our Westchester County divorce lawyers have to offer:
Nothing we do for our clients can be considered a cookie-cutter approach. Each case is taken up as a unique situation that requires and deserves a one-of-a-kind solution.
Although this is not the norm for many law firms, we believe it is the right thing to do, and we will stick to our strategies as long as they benefit our clients.
NY Divorce Residency Requirements
To qualify for a divorce in Westchester County, you must first meet one of the following residency requirements:
You were married in New York and either you or your spouse lived there for at least a year
You lived in New York as a married couple and either you or your spouse lived there for at least a year
Either you or your spouse has lived in the state for at least two years
Benefits of an Uncontested Divorce in Westchester County, NY
An uncontested divorce is when both spouses agree on all the terms of the divorce, including the division of assets, child custody, and support. Some of the benefits of uncontested divorce in NY include:
Cost-effective: An uncontested divorce is typically less expensive because there is no need for lengthy court proceedings or attorney fees.
Time-saving: Often, uncontested divorces are quicker than a contested divorce, which can take several months or even years to resolve.
Less stressful: Since both parties are in agreement, there is no need for court hearings, and there is less emotional conflict.
More private: An uncontested divorce allows for privacy compared to contested which involves public forums to discuss your issues.
More control: Both parties have more control over the outcome of their divorce, including the terms of the settlement and the division of assets.
Better for children: Less disruptive to children's lives since it generally involves less conflict and allows both parents to maintain a more amicable relationship.
We Are Not Afraid to Take Your Case to Trial
Ready to take control of your divorce and negotiate directly with your former spouse? Our Westchester County divorce attorneys can help you navigate the mediation process, ensuring you make the best possible compromises for your unique situation. But if negotiations break down, don't worry - we're not afraid of a courtroom battle. Our team is ready to fiercely advocate for you and your family, doing whatever it takes to secure the best outcome - especially for your children.
Dial 845.605.4330 for Personally Tailored Solutions
The Big Apple is not the only place in NY where people run into big family law problems. Everything north of there, from Westchester to Poughkeepsie and beyond, is where we conduct our business and try our hardest to improve the lives of the people in our community.
---
If you want invaluable legal support, you need to contact our Westchester County divorce attorneys today.
---
CLIENT TESTIMONIALS
Read What Past Clients Had to Say
"The outcome of the case was perfect and the case settled without any issues. I had no chance to stress!"

- Rosa Gonzalez

"Very professional, yet compassionate."

- Rebecca T.
Our Team Knows How to Negotiate Aggressively for Clients

Our Attorneys Have Substantial Trial Experience

Our Firm Treats Every Client With the Respect They Deserve

Our Team Has the Knowledge, Experience, and Resources to Successfully Try a Case

We have the Ability to Know Which Cases Need to Be Tried and Which Cases Can Be Settled

We Focus on Compassion, Communication & Effectiveness
Contact Our Firm
Ready to get started? Fill out the form below, or if you prefer,
give us a call at (845) 605-4330. Someone from our office will get back to you shortly.